MHLC is enrolling now for our online support and enrichment program!  Of course, we wish we could see you in person, but you can also get quality attention virtually – health and safety are our priority!

Our after-school tutoring and enrichment program is specifically designed for students in grades 4-8. Qualified tutors will work one-on-one or with small groups on subjects identified by families, students, and teachers. Tutoring is currently online and available in English and in Spanish.

Please call 401-455-8875 or email mhlc.pd@gmail.com to apply or with any questions you may have and pass along to anyone who may be interested!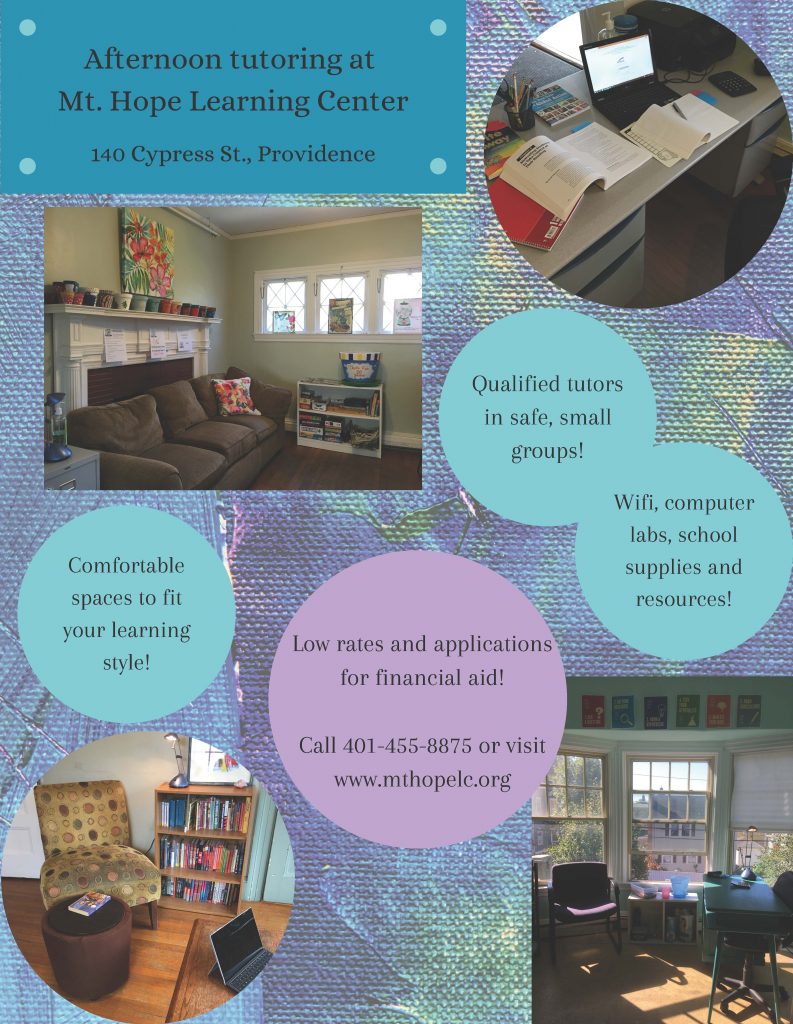 Scheduling
We are offering one hour or one and a half hour tutoring blocks, Monday through Friday between the hours of 12:30 and 5:00. Each session will be flexible to meet student needs and interests, with time to settle in, work on homework, meet tutors for specific support, meet in small groups on ongoing learning and enrichment projects or book groups, and borrow a book to take home for the week.

Cost
MHLC is committed to keeping our tutoring costs low with sliding scale and financial aid available. If this program interests you, please call to speak with MJ or Emily about a fee structure or scholarship that would work best for your family.

Who may apply?
MHLC's tutoring program is currently open to any student 4th-8th grade students seeking assistance in the online realm. This is an inclusive program for students with varied skills, development, and languages. 
Please call to discuss details.
Please note that MHLC does not provide transportation or technology, such as laptops or hot spots.

What precautions are being taken to prevent the spread of COVID-19?
Although current programming is virtual, the Learning Center will have a maximum capacity of less than 10 people at a time in separated, well-ventilated spaces. When onsite services are able to resume, Tutoring will take place in our outdoor classroom and in well-spaced indoor rooms to allow for appropriate social distancing. All staff and students will wear masks and we do have extra PPE available as needed. Students are expected to support in cleaning: wiping down their Chrome Books and work spaces, washing hands, etc. The program will also close for at least half an hour between groups of students for a thorough cleaning including disinfecting door knobs and other high-touch areas.
Stay healthy, safe, and learning!
Previously enrolled in MHLC programs and want to check your account? Parents can access the Parent Portal by clicking here!
To reach us:
By phone – (401) 455-8875, general information
for specific program inquiries – (401) 660-5395
By Facebook – https://www.facebook.com/mthopelc/
As always, call 911 for any emergency, or 211 for the United Way information line.
MHLC is registered with AmazonSmiles. Benefit your local charity while you shop!

Did you know?
If you live in Ward 3 and need assistance or know someone who needs help during this time of isolation, please fill out this simple form: https://forms.gle/KQj4mxhMEGsuPaBV9
If you are having trouble with this form, please call 401-331-1244 where someone can take down your information for you. This phone assistance is graciously provided by Jewish Community Services.